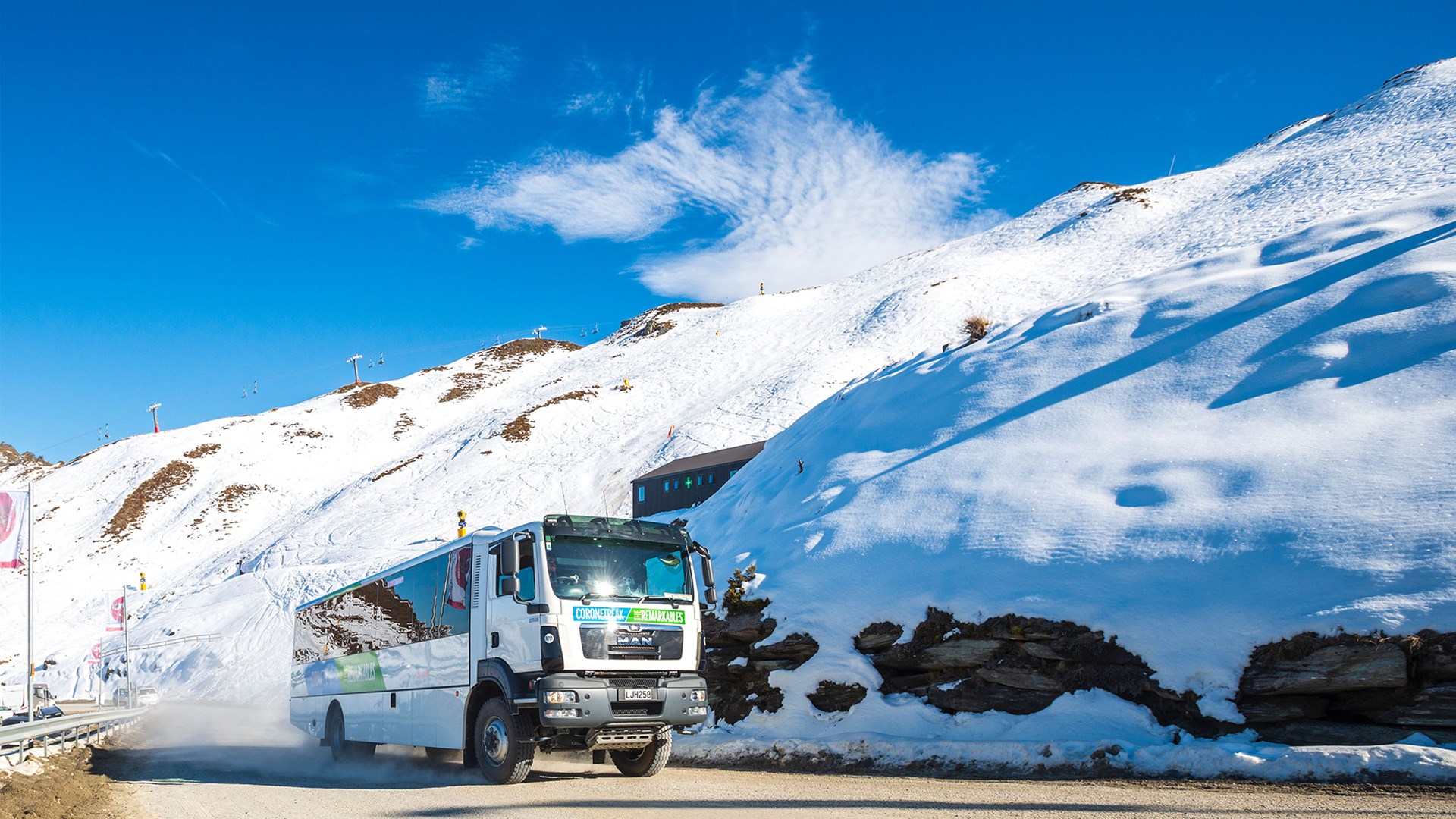 Coronet Peak & The Remarkables
Queenstown Ski Bus
Getting to our mountains is easy!
You can either drive yourself or catch a ride on the Ski Bus. The Ski Bus departs regularly from our Snow Centre in Central Queenstown for an easy ride up and down the mountain in winter. We have a fleet of modern 4WD buses to carry you and your equipment in comfort. All passengers are required to pre-book a departure timeslot and pickup location for the mountain you are travelling to prior to boarding. Ski Bus capacity is limited and subject to availability.
Coronet Peak is the closest ski field to Queenstown, only 16kms away. The Remarkables is a scenic 24km from Central Queenstown. Please allow plenty of time to travel in school holidays and on bluebird days.
Vehicle parking is also available in central Queenstown at Man St Car Park, close to the Ski Bus pick up location.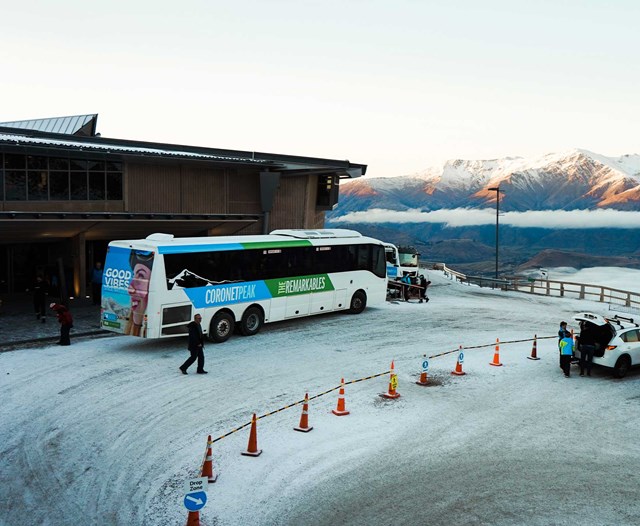 Relax and enjoy the scenic 20-minute journey to and from Coronet Peak on our Ski Bus. Our Ski Bus service runs regularly from 7.30 am until 11 am from central Queenstown on Duke Street. We stop at all the main bus stops on the way to Coronet Peak, including Gorge Road and Arthurs Point. The Night Ski bus departs on the hour from central Queenstown when operating at 3 pm, 4 pm, 5 pm & 6 pm. Pre-purchased prior to arrival? Please check your booking when you collect your ski pass or through your online account as tickets are only valid for the time, date and destination stated.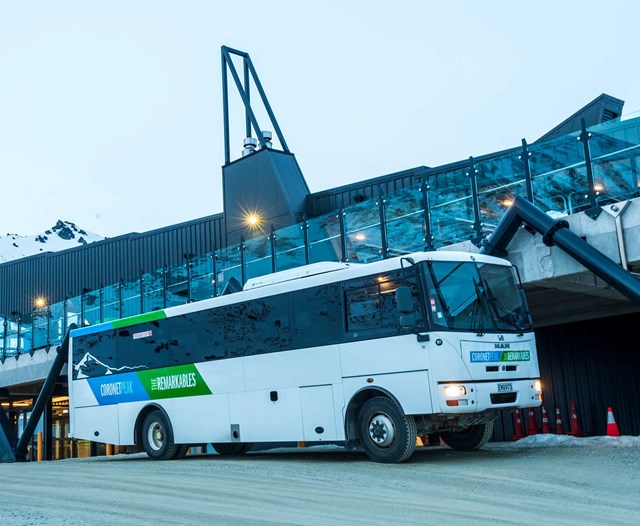 Be transported to a winter wonderland while you sit back and enjoy the 45-minute journey to The Remarkables. Our first Ski Bus services to The Remarkables will depart from central Queenstown on Duke Street from 7.30 am until 9 am. The Ski Bus will stop at most main bus stops on the way to The Remarkables. After 9 am, the Ski Bus service will depart from Frankton Golf Course Bus Stop (opposite the Frankton Bus Hub) and stop at 33-35 Kawarau Road/Humphrey St and the Remarkables Park 'n' Ride until 11 am. Pre-purchased prior to arrival? Please check your arrangements when you collect your ski pass or through your online account as tickets are only valid for the time, date and destination stated.
Catching the Bus
As per your ticket, you must ensure you are at the correct pickup location at the time and date specified. To guarantee you catch your booked Ski Bus, you must be ready to board on time. Please be aware, dependent on the pick-up location, your bus may have prior stops to yours but should depart within 30 minutes of your booked time.

If you have booked via a third party, please check your booking prior to travel when you collect your ski pass or through our MyPass portal to confirm that the pick-up location as well as the time, date and destination are correct.

Your return transport from the ski area back to your pickup location is valid only on the same day. Departures are on a first come first served basis and depart as buses fill, from 1 pm at Coronet Peak and 1.30 pm at The Remarkables.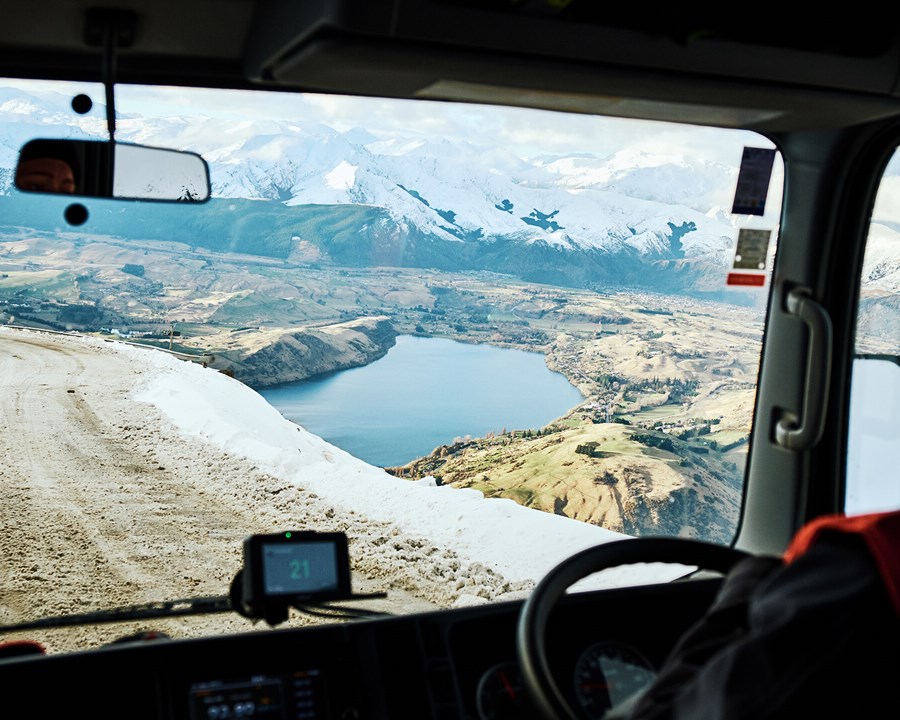 Park and Ride
Park at the bottom of The Remarkables access road and grab a ride up to the top with our Ski Bus service.

Buses depart daily from the start of the access road car park from 7.30am to 11am and depart the mountain from 1.30pm.

All passengers will be required to reserve a departure timeslot, pickup location, and what mountain they are going to when purchasing a Ski Bus pass. Capacity is limited and may sell out over peak periods.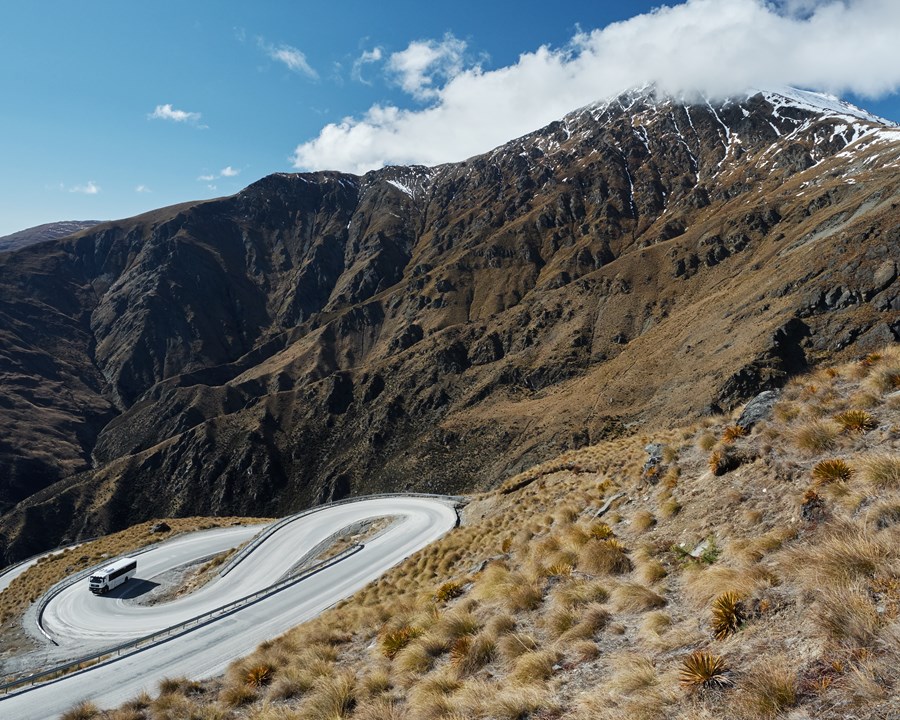 Queenstown Bus Hire
Relax and enjoy the scenic journey to your venue. Whether you need transport to a party, corporate event, wedding, or anything else, we understand the importance of getting to your destination in style and comfort. If your destination is hard to reach, let us take you in one of our custom four-wheel drive buses.

All vehicles are equipped with smooth traction and suspension, as well as experienced drivers who know the area very well. Our four-wheel drive buses seat 44 people and we also have several smaller 22 seat 4WD vehicles to choose from. Our fleet also includes several 2WD coaches that seat up to 57 people. We can cater to up to 500 people in comfort across a wide range of terrain, so whether you're heading up a mountain or into a paddock, we have a transport solution for you.

We've made requesting a charter bus quote easy. Just fill out our form with as much information as possible and we'll be in touch to give you an indication of pricing and to go over your travel plans.
Request Transport Quote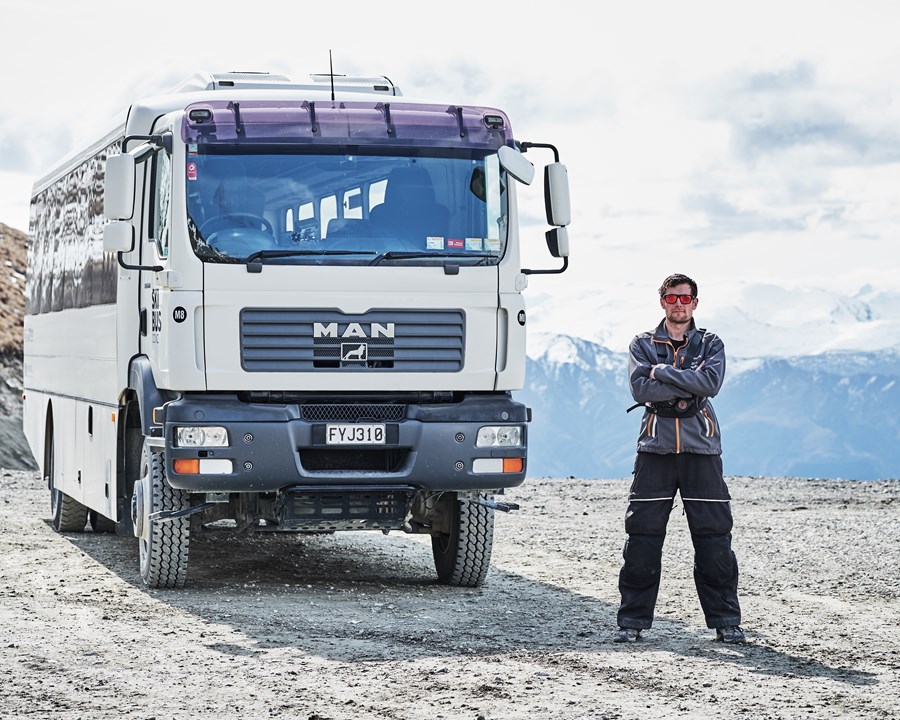 Self Drive
Drive Times
To Coronet Peak:
The Coronet Peak road is a fully sealed alpine road. Please drive to the conditions and maintain two-way access. Chains must be carried at all times. Check the weather page on our website for road and car-park conditions. We run a free shuttle service from our car park to the base building during winter.
From Queenstown: 20 min / 16km
From Arrowtown: 25 min / 21km
From Queenstown Airport: 30 min /23km
From Wanaka: 1 hour 15 min / 75km
To The Remarkables:
It's a scenic drive on the alpine road to The Remarkables Ski Area, please drive to the conditions and maintain two-way access. Chains must be carried at all times. You can stay updated with current road conditions by visiting our weather report page on our website.
From Queenstown: 45 min / 24km
From Arrowtown: 45 min / 31km
From Queenstown Airport: 30 min / 17km
From Wanaka: 1 hour 25 min / 75km
Winter Driving Tips
1. Make sure your windscreen is clear from ice, snow and condensation before driving. Use a scraper to get rid of ice or snow and don't forget to clear any snow off your bonnet and roof too. Never use hot water as this can crack your windscreen! To clear condensation quickly, open a window slightly and turn your car's demister on full, turn on the air conditioning and select the fresh air option.
2. Always adopt a conservative driving style in cold conditions. A good way to do this is to
drive as if you had an open cup of coffee in your lap! Keep your acceleration, braking
and turns smooth and gentle and you'll avoid losing traction.
3. Ice may be present on the road even if you can't see it. This is often called 'black ice' and
is prevalent in the mornings and as soon as direct sunlight has moved off the road.
Shaded areas and bridges are also areas to take extreme caution.
4. If you find yourself on ice – don't panic! Ease off on the accelerator and allow the
vehicle to slow down. Carry on driving at a slower speed and look for areas of traction,
like grit on the edges of the road.
5. Increase your following distance to at least four seconds and if a vehicle stops in front of
you when you are travelling uphill, give them plenty of space in case they slide
backwards.
6. Use 4WD if you have it, but remember that it won't perform miracles and it does not
improve your stopping ability.
7. Carry snow chains. Make sure that they are damage free and that you know how to put
them on. Always put them on where directed or when conditions demand. Use a
designated chain fitting area or somewhere that is ideally flat and away from traffic.
Keep your speed under 50kph and stop to tighten them if they start making more noise
than usual. Take them off where directed.
8. Never ride your brakes when travelling downhill. Use a pulsing technique instead and
use your gears to help regulate your speed. If your brakes start to feel mushy pull over
in a safe place immediately.
9. Always allow plenty of time for your journey and make sure everyone in your car wears
their seat belt.
10. And finally, if you ever get stuck on one of our ski field access roads – turn on your
hazard lights and remain in your vehicle. One of our roads crew will be along soon to
help.